School Bus Information
All students are required to register for School Bus Service.
Registrations for the 2017-2018 school year must be completed online by June 15, 2017.
Please click this link to register School Bus Registration Form. 
For school bus information and eligibility, please visit rdcrs.ca/parents/school-bus-information. 
Transportation fees apply for all students residing less than 2.4 km walking distance from their designated school.
Late registrations for bus service will be processed as best we can. Service may be delayed. 
Families who do not qualify for free transportation and wish to access busing, payment arrangements can be made at the school.
Download the RDCRS School Bus App!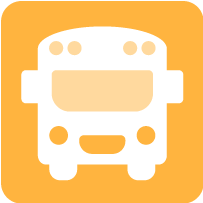 Available for iPhones and Androids.
Simply go to the iPhone App Store or Google Play Store, search "rdcrs" and download it. Our school bus application notifies you if your school bus is delayed or cancelled.
Bus delays and cancellations will also be posted on individual school websites. Local radio stations will continue to announce school bus cancellations as well.