School Notice
Upcoming Events
Friday, May 25 - Deadline for Yearbook orders
Tuesday, May 29 - HOT LUNCH FORMS DUE
Tuesday, May 29 - 6:00 pm (sharp) - St. Patrick's Annual Spring Concert
Tuesday, May 29 - Gr. 8 Track & Field Day
Wednesday, May 30 - Gr. 9 Track 7 Field Day
Thursday, May 31 - Jump Rope for Heart Fundraising deadline
Thursday May 31 - Leadership Garage Sale - Popcorn Sale $1.00/bag
Friday June 1 - First Friday Coffee - All parents welcome and encouraged to attend!
Welcome to Our School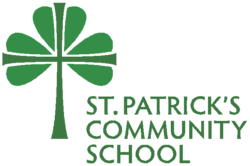 Pre-Kindergarten - Grade 9 
St. Patrick's Community School offers quality, year-round, Catholic education and we're proud to be part of a vibrant faith and educational community! 
               "May the strength of God pilot us. May the wisdom of God instruct us."

Follow us on Twitter! or @stpatsrd
Division News