School Notice
Upcoming Events
JUNE 22 - Middle School Success Assembly 9:00 am.
JUNE 28 - St. Pat's Elementary Fun Day
Welcome to Our School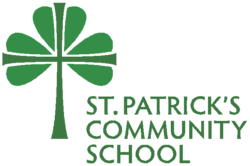 Pre-Kindergarten - Grade 9 
St. Patrick's Community School offers quality, year-round, Catholic education and we're proud to be part of a vibrant faith and educational community! 
               "May the strength of God pilot us. May the wisdom of God instruct us."

Follow us on Twitter! or @stpatsrd
Division News