School Notice
January 24 - Hot Lunch supplied by Opa
January 25 - Parent Council Meeting - Bandroom: 6:00 p.m. Childcare available.
Enter Family Day Literacy Photo Contest - Post a picture and tag St. Patrick Community School and you could win a Chapter's Card.
Basketball Games This week: Monday, Jan. 22 - Sr. Boys @ St. Francis
Tuesday, Jan. 23 - Jr. Girls @ Mother Teresa
Wednesday, Jan. 24 - Jr. Boys @ Fox Run
Thursday, Jan. 25 - St. Boys @ St. Thomas
Welcome to Our School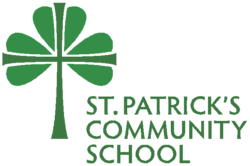 Pre-Kindergarten - Grade 9 
St. Patrick's Community School offers quality, year-round, Catholic education and we're proud to be part of a vibrant faith and educational community! 
               "May the strength of God pilot us. May the wisdom of God instruct us."

Follow us on Twitter! or @stpatsrd
Division News