School Notice
School Council Meeting - Tuesday, August 21 - 4:00 pm in the bandroom. Parents encouraged to attend!
Volleyball Tryouts
Tuesday August 21: 7:30 am - Senior Girls 3:30 pm: Senior Boys
Wednesday August 22: 7:30 am - Middle School Boys 3:30 pm - Middle School Girls
If you have not registered for busing, please call our Transportation Dept. @ 403-309-8801. If you require bussing for your child going to St. Teresa, please register under 'St. Patrick's Community School'.
Welcome to Our School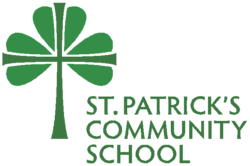 Pre-Kindergarten - Grade 9 
St. Patrick's Community School offers quality, year-round, Catholic education and we're proud to be part of a vibrant faith and educational community! 
               "May the strength of God pilot us. May the wisdom of God instruct us."

Follow us on Twitter! or @stpatsrd
Division News