Dawe Public Library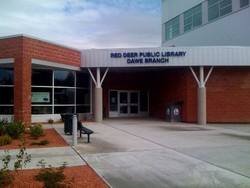 In addition to being a full-service public library branch, the Dawe Public library is St. Patrick's Community School's library, and home to RDPL's Adult Literacy program and various programs for the community.
Check out their website: Dawe Public Library
Mini Comic-Con Wrap Up! A TD Summer Reading Club Event (Dawe Branch)
Thursday, August 16
3 p.m. - 4:30 p.m. 
All Ages (under eight with an adult)

Meet Red Deer's R2-D2, Darth Vader from the 501st Legion, and get skilled with light saber lessons!
Come dressed in your favourite costume! We will complete our grand prize draws and celebrate with food and fun for the whole family!

Light Saber lessons: 
Ages 3 to 6 @ 3 p.m.  Ages 7 to 11 @ 3:30 p.m